The new show Auction Hunters debuted on Spike TV on Tuesday.
The show follows two Auction Hunters, Allen and "Ton" through their adventures in buying storage units at auction. (Most state laws require that the contents of abandoned storage units be auctioned off – usually according to State lien sale laws)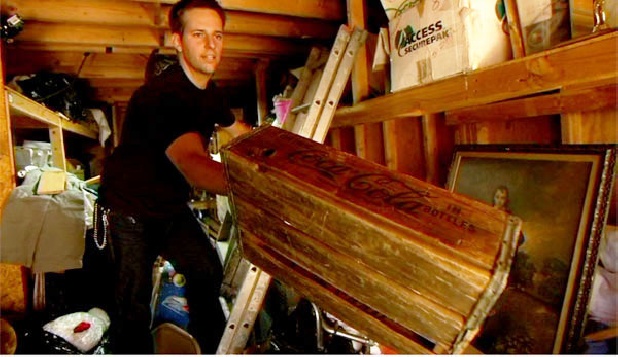 I've been teaching about (and buying) storage auctions for about 11 years, so it was a lot of fun to see this modern-day treasure hunting technique explained and showcased.
(Most of the people who buy storage auctions for a living are not happy about this show. The storage auction "buyers community" is a tight-knit group and they do not like competition – or new blood coming in to possibly "steal" their units)
In this debut episode, the auction hunters end up going to a Los Angeles storage unit auction that is indoors.
Allen says that, when items are stored in a "climate-controlled" facility it means that the people cared more for their items than if they were stored in a traditional outdoor facility.
One of the units being auctioned had its items all shrink-wrapped. Allen said that this could mean those items were professionally moved and if the people paid for professional movers, then the stuff could be good.
The other comment was "Shrink wrapped items are WORTH being shrink wrapped".
So the pair begin to strategize about how much they are willing to pay. The key, they say, is to determine your top price and never veer from that.
When I go to storage auctions, I do the same thing. I size up the value of the items that I CAN see and divide that dollar number in half.
I don't ever go above that number (since you can really only bid on what you can see, anything else is pure speculation) and the bottom line is, this should never be seen as gambling…  it's a business.
At this Los Angeles location, the Auction Hunters spot 8 heavy duty sewing machines which they estimate to be worth about $300 each. So they bid on that unit and win it at $1,150.
The shrink wrap unit ends up being theirs for $850.
In the end, they end up selling several items for a total of $5,850 (on an investment of $2,025) for a profit of $3,825.
While that's not a bad profit, (188%) I like to aim for higher percentage profits.
How do I do it? Simple, I don't buy as many units and I am very careful with the units I do bid on. Sometimes I will go to a whole day of storage auctions without buying a unit because they just don't have the value that I'm looking for.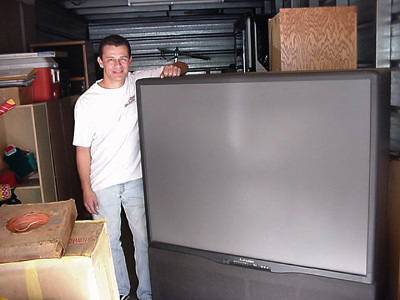 When looking at the unit, something has to grab me to make a bid or I just walk away.
I teach you a lot more about my strategies for making money with storage auctions in my new Storage Auctions Video Course located here:   http://howtomakemoneywithstorageauctions.com
The second episode of Auction Hunters (on Spike TV, Tuesdays at 10 pm PST) showed Allen and Ton driving to San Bernardino.
Once again, the show takes a fun, yet educational approach to storage unit auctions by defining some of the lingo used in storage unit auctions and again showing the cool goodies that the Auction Hunters are able to buy.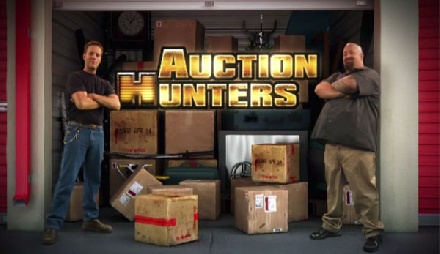 On the way to the unit, they talk about how it's a good idea to go to storage auctions in older communities because it increases the chances of landing some older things.
Another good point is made when a room is opened up and the items are neatly stacked and cleanly positioned in the unit. Allen says that these units show more promise because the people took great care in placing the items in the unit as opposed to units that have items haphazardly "thrown in".
In one of the units, the Auction Hunters see military bags – Khaki green bags – and see this as a clue that a military person owned the abandoned unit. The further insinuation from this clue is that military people travel and therefore there could possibly be items from around the world.
This points out one key point about sizing up storage unit auctions – you have to think like a detective and look for clues wherever you can find them – and, you have to do this in a matter of a minute or two because that's really all the time you have to look at the unit before the bidding starts!
The "military bag unit" is purchased for $375 and the estimated value of the items in it is $825. (the items include some Morgan silver dollars, an antique "Pepperbox" gun and some antique handcuffs)
Then the guys go to the next unit which they call the "Salon unit" because it contains professional hair dryers.
In this unit, they determine that one of the bidders is a "whale" a bidder with a lot of money who will stop at nothing to win the bid. (I've seen this guy at some of the storage auctions I've attended in the L.A. area and he's no whale, he's just a guy who wanted the unit)
Once deciding on their highest bid, they decide to "drop the room on him", which in storage unit lingo means bid it up high so that the "whale" spends all his money and can't come back and bid again on another unit that day.
(I don't really see the logic in this – the so-called whale can obviously back off whenever he feels like it)
So they go to the next unit and find a unit that no one wants to bid on.
It has only a few items in it and the items do not look like they have much value, but on a hunch, Allen decides to bid $1 and gets it.
They end up turning $1 into $365 because there are some old Lionel Trains and a Christmas tree in there that add up to some decent money.
This show is a lot of fun to watch and goes to show that, if you do it right, storage unit auctions can be a good way to make some money!
If you want to learn how to make money with storage unit auctions with my eBay video training, be sure to CLICK HERE.
Welcome and thanks for visiting!

My name is Dave Espino and my commitment is to serve you by providing you with the best entrepreneurial information possible!
Whether you want to start your own business, teach online courses or even set up your own eCommerce business, this is where you will get the hottest strategies for your success!
I've generated $140 million in sales of my own products and related services, so I know I can help you achieve your goals, too!
I wish you tons of success and I'm here to help you get there!