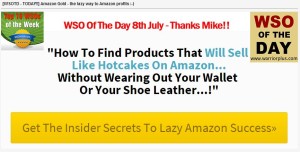 I just purchased this brand new Amazon FBA training titled "Amazon Gold – The Lazy Way To Amazon Profits" produced by Amanda Craven.
It consists of A 62 page report that is full of product sourcing tips and product sourcing worksheets. Also included is another report titled: "Amazon Resources Bonus Guide' which is full of free and paid resources.
What initially intrigued me about this product is that Amanda has discovered / innovated a variety of ways to source Amazon FBA inventory without leaving her home!
I am a big fan of Amazon FBA, because Amazon picks, packs and ships your products out for you so that all you have to do is focus on sourcing new products to re-sell. This is a huge benefit that is only available through Amazon's "Fulfillment By Amazon" (FBA) program and it is allowing people to make massive, six-figure incomes using this method!
The only drawback to that, (and admittedly, it is a tiny drawback) is that you usually have to go out and source these products physically – sometimes through "retail arbitrage" (buying at big box stores at closeout sales or other big discount opportunities) or through thrifts stores, flea markets, etc.
Still, this is a highly profitable and proven business model that is currently making some sellers as much as $1 million a year in sales!
Now, what if you could get rid of the physical product sourcing and instead find online ways to source those products?
That's what "Amazon Gold – The Lazy Way To Amazon Profits" is all about!
It is truly a gem and (although I've read through it once already) I am going through it again – more carefully this time and also taking notes – because the strategies in this training are truly exciting and remote control strategies!
(Imagine being able to automate the process of product sourcing and then of course the Amazon FBA program makes the shipping automated, too? That's the best of all worlds!)