Discover The 5 Online Jobs You Can Do
(In Orange County)
With Your Current Skills & Experience
Recently, some exciting advances in technology have made it easy for Orange County residents to find work by using certain well-established websites / services.
These advances in technology have turned the job world upside down. While the traditional job world struggles, the online job world is thriving.
I call this a "Mega-Shift…
In this article, you'll discover how to turn your current skills and experience into a new job. So, let's get started!
Here are the 5 top online job opportunities that anyone can do. Some require minimal training, but most of them can be done with basic skills.
Freelancing
The opportunity to be an online Freelancer is, by itself a HUGE opportunity that is open to anyone with a computer.
Freelancing can encompass super-simple tasks, such as editing a Word document, sorting a list, or doing simple addition and subtraction inside a document.
On the other end of the scale, Freelancers can command large salaries as their skills become more and more specialized.
For example, let's say you are a programmer. If hired for a programmer job on a freelancing site, you can be paid a substantial income and may even turn that "freelancing gig" into a full-time job, as well!
Ecommerce
The ecommerce world is exploding as more and more people simply go online to shop.
You may have noticed that giant chain stores have shut down hundreds of stores in this tough economy?
That's because technology has made it easier and cheaper for these big companies to simply sell their merchandise online.
By selling their merchandise online, these stores can reduce their overhead, not have to pay for store leases, employess, etc.
But this opens up an exciting job opportunity for you!
That's because you can begin working as an ecommerce specialist, listing products on websites like Amazon, eBay and Sears, in exchange for a commission.
This is a super-easy opportunity that's immediately available to you and that you can do easily because these websites provide training videos, right on their sites!
Online Publishing
This is a little-known job opportunity that is growing fast.
Have you ever bought an eBook on Amazon.com?

Have you ever bought a song on Apple's iTunes store?

Have you ever bought a download of any kind?
If so, you bought them from online publishers.
These online publishers used the new technologies and new websites that make it super-easy for you to do the same thing.
It's the exciting new world of digital information publishing.
In the past, only the really wealthy people could be publishers because you had to have access to a printing press, record studio and record-making equipment or software development skills.
But today, ANYONE can become an information publishers – and the process has become so easy that this an exciting opportunity that is available to anyone.
Affiliate Representative
An affiliate marketer is someone who gets paid by a variety of companies, (including many top name-brand companies) for every sale that they send.
It's like a big referral program where you get paid commissions for any sales you refer to them.
When you become an affiliate for a company, you are given a specially coded link that you can use in your promotions. (typically online)
The more people you can send through your link, the more sales you'll make and the more commissions you'll earn.
Everything is tracked in real time, so you'll know exactly how much you are making.
Small Business Marketing Specialist
Small businesses need your help!
As a small business marketing specialist, you will help local businesses generate new customers and sales from the internet. This is a growing field and there are many people making full time incomes as small business marketing specialists.
Most small business owners are good at providing their products / services but they stink when it comes to marketing.
As a marketing specialist, you can help them and earn a substantial income doing so. Best of all, this is an easy job to learn and to get into!
Conclusion
Well, there you have it – 5 of the top ways to put technology on your side and start working a new job that is on a growth curve!
FREE REPORT
If you'd like to get the full story on these 5 exciting opportunities, just click the link below to get access to my complete report, titled "5 Ways To Use Your Skills And Experience In A New Business".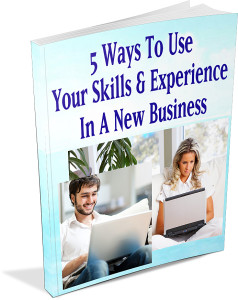 Get Your FREE REPORT By Clicking Below…

.