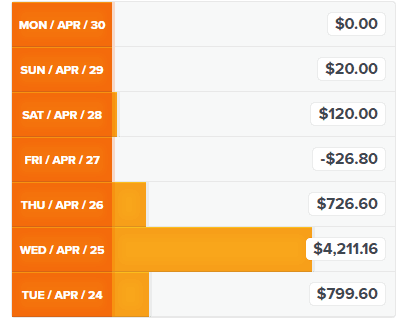 What are the best ways to make a passive income in 2018?
Well, when it comes to making money online in general, there are all kinds of ways to make money online, but if you're narrowing it down to making a passive income, there's really only a few key ways to generate a passive income online.
I'm going to mention a few of those key ways and then I'm going to mention what I call "The World's Most Perfect Business", the most perfect way to create a passive income.
Create Amazon Affiliate Review Websites
So, let's start with one of the most obvious ways and that's creating review websites for Amazon products.
When you create a review website for an Amazon product, what you're doing is you're writing a review on your website and you're posting your affiliate link to that product on Amazon, so you're benefiting from the Amazon affiliate program. Now the Amazon affiliate program pays pretty well, although on retail products or physical products, the percentage is pretty low, but the benefit of the Amazon affiliate program is if they add other things to their cart, you get paid on all that stuff as well, so it's really a good business around the holidays, around Christmas time because that's when people are shopping a lot on Amazon and so those are some boom times for people who are Amazon affiliates.
Now, that's one way to make money, but you have to really build a lot of review websites or you have to review a lot of products and really build it up over time to be able to make a decent income.
Affiliate Marketing – My Favorite Affiliate Program, And Why…
Another way to make a passive income is to be an affiliate for a really highly responsive affiliate program. Now I'm going to have a link to the affiliate program that I recommend below this article.
This is an amazing affiliate program that has made me as much as $5,800 a month!
And when you promote an affiliate program, you want to be sure that the program you're promoting is a solid product and is also really good at converting visitors into sales and you also want to be sure that they have a good cookie that works for a long time. Really a lifetime cookie is the best, and what that means is that when somebody visits your website or your review page or your video that reviews and uses your affiliate link to click through that, even if they don't buy that first time, they are tagged with your cookie so that if they buy some time in the future, you still get paid.
The affiliate program that I'm mentioning at the end of this article is really an incredible program where the product is not only amazing, but the people who are marketing the product are masters at converting visitors into sales – even into the future.
Now, what is the best way to create a passive income?
The World's Most Perfect Business For Passive Income
Well, it's what I call "The World's Most Perfect Business".
The world's most perfect business is when you create a "how-to" video course.
You take your superpower; that is your knowledge, your experience, your skills, your talents, and you put it into a "how-to" course. You basically create a "how-to" course showing people how you do what you do and how you do what you're good at.
Now, that's one way to do it. Another way to do it is to simply hire somebody that's good at something and create a course, and now you own the rights to that course, right?
When you do this and then you set up an automated system to market your course for you, now you've got an incredible passive income that works for you 24 hours a day, 7 days a week, and 365 days a year.
It's an incredible business, and the beauty of this is it doesn't take a long time to start seeing results like it might in many of the other methods. In fact, you could start seeing results your first month.
One of my students created a course about baking sourdough bread, and in her first month she made $3,000, with that one course. That's how quickly it can happen!
So you can take your superpower, create a course on it, and within a month or two, start making money from that course. It's a lot faster, in my opinion, than the affiliate marketing game.
If you'd like to know more about what I call the world's most perfect business, be sure to get your copy of my book by the same name. It's a free download. It's available here: http://DaveEspino.com/FreeBook
And here's the link to that affiliate program that I mentioned: https://daveespino.com/AffiliateBootcamp
If you'd like to continue to learn more about the online course business, I'm now making a lot of videos about the online course business. I've been in the business for 18 years. I have over 60 courses published online on various platforms as well as self hosted courses, and I have students all over the world that are engaging with my online courses, so be sure to subscribe and hit the like button in the video below!