"I wish I would have had this two years ago. I paid him $25k to learn this stuff, and you get it FREE…"
– Liz BennyOver the last 30 years, I've read over 1,500 business books and, no matter what type of business you are in, I cannot recommend Russell Brunson's book more highly.
It is, bar none, one of the greatest business books I have ever read…
"I've underlined something in almost every page! I wish I wrote this book – it's REALLY THAT GOOD!"
– Jeff Walker – Product Launch Formula
Russell is the brain behind several multi-million dollar online businesses and now, he has put his simple, but highly profitable formula into a power-packed book called Dot Com Secrets.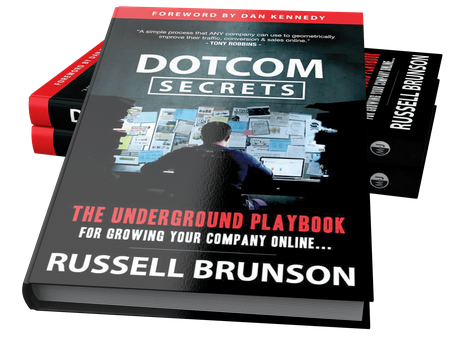 (In fact, you may have seen Russell on the hit CNBC show, The Profit, with Marcus Lemonis! He was helping one of Marcus' companies dramatically improve their profitability by using his proven methods.)
Well, Russell is giving his book away right now and I just had to tell you about it.
"Dot Com Secrets was huge for me to create the funnels I currently use to generate over $250k in revenue every single month…"
– John Lee Dumas
When you apply what is inside, this book will change your life and will allow you to grow ANY business with its simple principles.
But, although I could go on and on about Russell and his powerful book, let's not waste any time – you need to see the video on the page below.
In the video, you'll hear from entrepreneurs (people just like you) whose lives have changed because of the powerful strategies inside Dot Com Secrets.
==============================================
Watch the video (and get your FREE BOOK) here:
http://DaveEspino.com/DotComSecrets
==============================================
Bottom line, you owe it to your business and to yourself to get your hands on this book – it will blow you away with how simple the ideas are, but more importantly, it can explode your business – ANY business – when you follow it!
This book has my highest recommendation.
Here's more praise for Russell's Dot Com Secrets:
"I've been around a long time, and this was truly eye opening to me. It's one of the few books I've ever read that actually taught me new stuff"  
– Jim Edwards
"I was planning on giving this book 5 minutes… I ended up reading the whole thing! This is the best marketing book I've come across in years…"  
– Danny Iny
"This book is the real deal. I can't believe he's giving away all of this stuff! This is better then stuff I've paid $2,000 for…"
– Ty Cohen
"This stuff has already been worth hundreds of thousands of dollars to me…"  
– Jon Penberthy