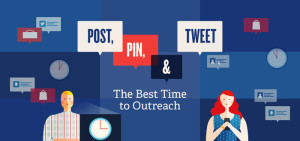 I often help small / medium businesses with their marketing and recently, I've been helping a local Christian school with growing their enrollments.
We are doing PPC ads, (Google, Yahoo / Bing, Facebook) and a few other things to help them reach their goals.
One of the things I've been able to do is post on their church's Facebook page, which has a lot of fans.
I've always wondered what time of day and which day of the week are the best to post on Facebook and now, thanks to Entrepreneur.com, we have an answer!
If you'll click on the link below, you'll see a helpful infographic that shows the best times of day and best days of the week for posting on those social media sites – these are the times when these sites are being used the most.
(Source: http://blog.surepayroll.com/post-pin-tweet-best-time-to-outreach/)
Now, Social Media is NOT for every business. (in fact, it's probably not for MOST businesses) So, by showing you this infographic, please do not think that I am implicitly endorsing the use of social media for your business.
Perhaps in a future article, I will go over the types of businesses where social media makes sense and the ones where it doesn't. Let me know if you'd be interested in that article!
Click here: