There is a whole world of wholesale lots being sold on eBay right now.
Here is a link to all the main categories on eBay.
http://shop.ebay.com/allcategories/all-categories
You'll notice that at the end of each list of categories, there is usually a "Wholesale Lots" category.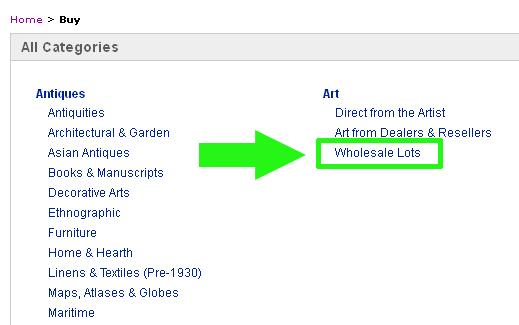 This is where you can begin your research into profitable lots on eBay.
But before you buy, make sure you do your pre-sale pricing research.
You'll want to check "Completed Listings" to find out what these items have actually sold for in recent weeks on eBay.
By doing this pre-sale research, you will be able to make a sound buying decision and protect yourself from doing a bad or unprofitable deal.
Take your time, do some calculating, and be sure you can make money on the wholesale lot before you buy the lot!
I'm not ashamed to admit that, in my early days, I got stuck with my share of "duds" – buying small lots of collectibles at a swap meet or yard sale, only to find out later that the items wouldn't sell for very much on eBay.
Don't let this happen to you – when you are buying wholesale lots on eBay, you have the benefit of being able to research the items being sold AHEAD OF TIME and really KNOW that you will be making money before you buy.
Remember, you make your money when you buy – so buy right in order to sell right! It's great, buying when you know that you will make money!