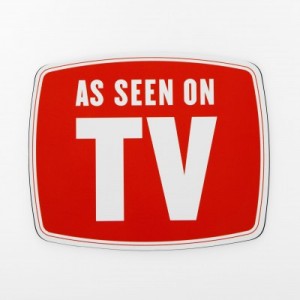 One of my product sources / suppliers sells "As Seen On TV" products.
This is a great product to sell on craigslist, because of the huge TV exposure that these products get. Recently, I've been selling fitness and weight loss products on craigslist.
Because of the huge amount of TV exposure these products get, I've been doing great with these types of products.
Many people see a product on TV, and then go straight to craigslist or eBay to try and find that product at a cheaper price
If you're able to find a source of products that are sold via TV commercials or even infomercials, you may have a little gold mine on your hands.
That's because these are the types of products that craigslist buyers are looking for on a daily basis, and if you run a listing for that type of product – a good professional-looking listing – you're bound to make a large number of sales.
And, as you know, craigslist sales are great because people come to you and they pay you in cash – so there's no shipping involved!
So here's today's Craigslist Tip:
"Finding suppliers of TV-promoted products (or other extremely popular products) is a great way to sell items on craigslist because these are exactly the type of products people are looking for on craigslist"
So do some research on products that would sell well in your local area craigslist.
You may even find that you can buy wholesale lots on eBay and sell them on craigslist for more money!
In fact, I devote an entire section of my new video training course to making money with Craigslist.
Visit: www.DaveEspinoFastCash.com to see how you can make some great, profitable, quick-flip deals on Craigslist!