I'll admit, I am a newbie to LinkedIn.
It doesn't seem to be built in an intuitive way for most people.
In case you don't know, LinkedIn is a social network for the professional set. (Think of it is Facebook, but without all the Farmville games, applications, niece's drama, etc.)
It is a place where you can showcase your resume, find a job, make new connections, network, find strategic partners, answer questions in your field of expertise and generally create more business for yourself.
There are all kinds of creative ways to use LinkedIn to generate more business and it is one of the world's best kept secrets (there isn't a lot of information out there about maximizing your LinkedIn experience)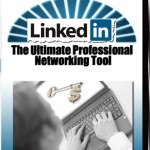 However, recently I bought the rights to a LinkedIn video that shows you exactly how to use it to it's fullest and how to get more business from it.
I am implementing a lot of what I've learned in this video – it is amazing!
You can learn more about and order the new LinkedIn Tips & Tricks video here: http://kunaki.com/sales.asp?PID=PX00ZCL9HE&pp=1
Also, I just ran across a very helpful article called: Seven Top Tips For LinkedIn Success here:
http://randyschrum.com/2010/10/seven-tops-tips-for-linkedin-success/