Pawn Stars has been a hit on History Channel for three seasons now and the cast is an entertaining bunch of characters.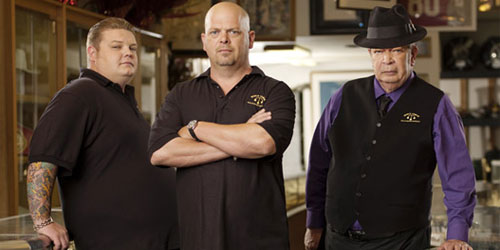 This is a serious case of "truth being stranger than fiction"… You couldn't cast a more entertaining and fun-loving crew if you tried!
The items that are brought in are exciting and there is also a cool educational factor to it as we learn of the origin and history of the items that are brought in.
I believe the reason the Pawn Stars TV show is a hit is a combination of factors.
While at first glance it may seem that it's just a cable TV show about a pawn shop, there are so many different things going on under the surface that bear mentioning.
The good-natured personalities that make up the main Pawn Stars cast and the hilarious exploits they get into.
The items that are brought in have their own "personality", history and provenance – for those who are not as interested in the personalities of the Pawn Stars cast, the items themselves lend themselves to a flight of imagination – imagining what you would do if you owned a rare or valuable item.
The various experts that are called on to give their experienced opinion on the rare items that are brought in. This keeps the show interesting for those who aren't as enamored of the Pawn Stars cast.
The back and forth negotiation between Rick Harrison, the Old Man or Big Hoss and the person who brought an item in to sell or pawn. This is actually an excellent lesson in the skills of negotiation. As you can see in each episode, the negotiation follows a specific pattern and you can see it happen over and over again so you are actually learning to negotiate as you watch the show.
The field trips that are taken to test out a gun, drive a 4 x 4 in the desert or look at a collection. This makes for a good break from the Pawn Shop antics!
Chumlee could be a TV show all by himself!
As you watch the show, there always seem to be surprising ad lib moments of hilarity – the guys seem to be having fun even in those moments when things get tense and anxious.
You get the sense that there's nothing these guys would rather be doing than making deals and counting money!
Here's the Pawn Stars Episode Giude:  http://www.history.com/shows/pawn-stars/episodes
Gold and Silver Pawn – Pawn Stars Website:  http://www.gspawn.com/pawn-stars-welcome-to-the-gold-silver-pawns-new-site/
Learn how to make FAST CASH on eBay by finding high-profit collectibles!