Amazon & eBay Product Sourcing Master Class
33 Proven Strategies For Sourcing High-Profit Products For Your
Amazon FBA & eBay Business
If you are an Amazon FBA / eBay seller, then you know that there is one HUGE KEY to having all the success you want.
It's called Sourcing Products.
If you can get good at sourcing higher-profit products, then it's like having the "keys to the kingdom" in the ecommerce world, right?
And on the opposite side of the coin, if you DON'T get good at product sourcing, then you will just continue to struggle. (until you DO get good at it)
In fact, in today's world, the ability to source high-profit products is the MAIN THING that sets you apart from anyone else who is doing this business.
When you source high-profit products, you can now:
Enjoy higher profits

Enjoy faster profits

Enjoy big returns

Enjoy faster sell-through / turnover

Enjoy more freedom of time

Enjoy fewer returns

And have less worries and stress
Let me make a bold statement here…
I've been sourcing products all my life… I began when I was 7 years old!
When I was 7, my parents started selling at local flea markets in Southern California and one of my special rewards for helping them set up shop was that I would go out and hunt for collectible Hot Wheels cars!
(Little did I know that, many years later, I would be buying and selling tens of thousands of these collectibles in a modern-day version of a flea market known as eBay, and that it would become my full-time business!)
Over the years, I developed some very exciting strategies for negotiating and for finding amazing deals at flea markets – deals I turned into profits of up to 900%.
You may be aware of my eBay infomercial? (it ran on major cable networks such as CNBC, Fox Business, Discovery, Travel and History Channels and it was seen by millions of Americans)
Well, what a lot of people don't know is that, throughout that 11-year marketing campaign for my eBay Training Product, I was constantly studying, testing and proving out the BEST product-sourcing strategies.
You see, I wanted to be sure that I had the latest and best, updated and improved eBay training with the latest, greatest product-sourcing strategies!
I have since created many courses about product sourcing so I decided to put ALL of my product-sourcing knowledge and experience into one HUGE "Master Class" so you can have ALL of my top product-sourcing strategies crammed into one amazing training!
You'll discover, and see, with REAL-WORLD EXAMPLES:
How to source products in new, innovative ways

How to get products for FREE that you can resell for profits

How to use innovative dropshipping strategies so you never ship

How to do eBay / Amazon arbitrage (again, no shipping!)

How to do Amazon / eBay arbitrage

How to source products online so you never have to touch your products

How to set up exclusive product-sourcing arrangements so you have NO COMPETITION

How to copy my system which "attracts" high-profit products TO YOU

How to use little-known, automated tools that actually FIND THE DEALS FOR YOU

How to access new products from little-known "offline" auction sources

How to "hack" your way into new, exciting product sources that let you dropship!

How to find suppliers of HIGH PROFIT PRODUCTS that no one else knows about and who would LOVE to give you great deals that you can make money on!
And much, much more!
In short, you get my "Legacy Training Course" – something that everyone in the Amazon / eBay community can use IMMEDIATELY to make hundreds of thousands in sales!
You see, when you know how to source high-profit products, you have the keys to the kingdom and you can pretty much name your income level!
And, especially with Amazon FBA, it's all about "reinvesting your profits" over and over again (and in larger amounts) so as to build a "critical mass" of high profits and high income.
This Master Class will show you multiple, high-profit ways to accomplish that through high-level product sourcing, so that you get to your goals MUCH FASTER!
You're invited!
I'd like to invite you to join me on this special "Amazon & eBay Product Sourcing Master Class".
The Master Class consists of 3 webinars that were recorded live as I presented them over a 3 week series.
Each webinar was a little over an hour, so you are getting 4 hours of the best, most rock-solid product-sourcing training that you could get ANYWHERE!
To order my Amazon & eBay Product Sourcing Master Class, just click the "Add To Cart" button below.
Amazon & eBay Product Sourcing Master Class
Only $97 

And, when you order today, you will also get my course:
"How To Get Amazing Deals At Flea Markets" as a FREE BONUS.  ($47 value)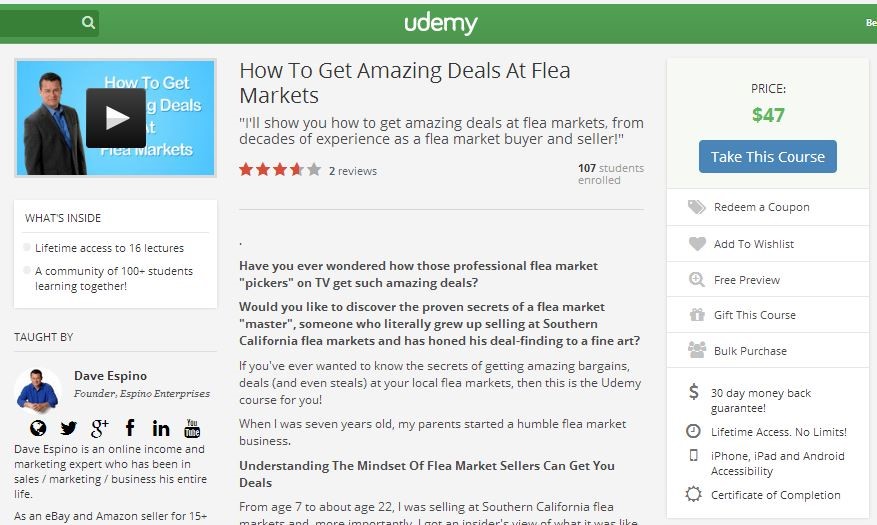 (Free Course Coupon Will Be Emailed To You Soon After You Order)
See you on the webinar!
Dave Espino